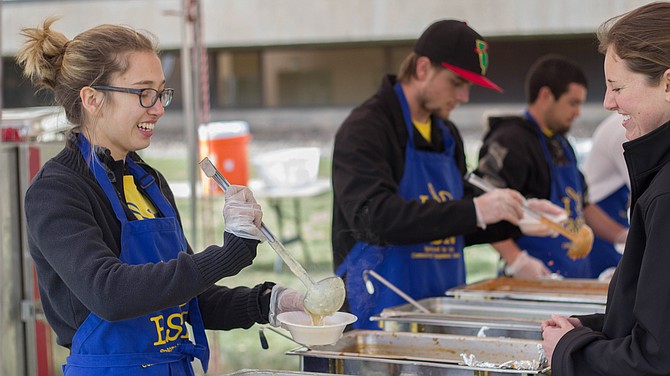 The last Bread and Soup Nite of this semester was hosted Monday on the Business Quad instead of its usual location in the ballroom.
Anticipation of nice spring weather was short-lived as the event was spent in the cold wind Cedar City is known for. However, the wind didn't keep a lot of students from coming out for hot soup and live entertainment.
Young entertainers with the group name "Wee Be Groovin'" from East Elementary School started off the performances of the night as they danced to many different songs.
Coach Ed Lamb of the football team headlined the music for the students who were brave enough to withstand the cold with his band Spilbeedog.
Pam Branin, associate director of the community engagement center who oversees the student leadership team, was excited about the opportunity to have Lamb performing. She said she believed it would help bring more students to the event, and give them the chance to see him out of a football setting.
Tiffany Mineer, a sophomore athletic training student from Lubbock, Texas said she has enjoyed all the Bread and Soup Nites throughout the year.
"It's a good way to start out the week with it being on a Monday night," she said. "It was a good way to get some food for cheap and enjoy some entertainment with friends."
Drake Geniec, a junior human nutrition major from Henderson, Nevada said he really enjoyed to be able to help with Bread and Soup Nite.
"It's a fun activity, and it's very enjoyable. You get to meet and make new friends, and possibly new study buddies," Geneic said.
Bread and Soup Nite will pick up again in the fall semester. Those who run the event expect to keep the fun entertainment coming and for the number of students and community members that attend to keep growing.