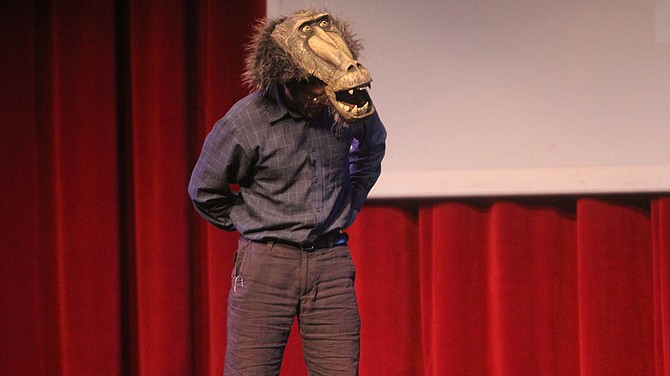 Audio clip
91 Update: Puppeteer attends Convocations
SUU students and families came to hear the nationally-acclaimed puppetry artist Jesse Mooney-Bullock speak at the first Convocations of the spring semester Thursday.
Mooney-Bullock went to art school and now designs, paints and engineers puppets while writing and storytelling, as well.
Most of his puppets are made entirely of wood. Some of his puppets are nothing but a head, others are full bodies and some require multiple hands to help it to move and function.
Mooney-Bullock spoke in the SUU auditorium Thursday night about his work, the way he feels about the art and the difference between dolls and puppets.
The show itself was only 40 minutes and the rest was a question-and-answer session between Mooney-Bullock and the audience.
Mooney-Bullock said he always enjoyed puppetry in art school because he had the opportunity to perform in front of a live audience.
"Live performance has an immediate reaction, and I love that aspect to it. I never really was an actor and never really thought of myself as a performer," he said. "In my performance class i would bring sculptures and bring cardboard objects and i started learning about puppets theatre so would make paper mache things and I would use those things, so puppets became a way for me to mask myself on stage so that I can perform without being right there."
In Mooney-Bullock's speech, he brought five of his own puppets on stage. The puppet the audience heard most from was a large baboon mask worn on top of Mooney-Bullock's head. The duo bickered during the performance and discussed the significance of puppetry.
In the audience was student Sierra Mendonsa, a freshman business major from Bountiful said she thought the convocation was pretty cool and pretty different.
"He was kinda funny and I think little kids really liked the little monkey mask," she said.
Mooney-Bullock said there are three factors a puppet needs to come alive, that is a body, performance and the audience with their imagination. At the end, he thanked the audience for their imagination and helping his puppets come to life.
Michelle Zoufall, a studio arts major from Berlin, Germany said she used to hate puppets but Bullock helped convince her in thinking they are pretty cool.
"It's true that he gives it (the puppet) life," she said. "It was super interesting how he said that the audience have to be artists to give the puppet life and believe it."
Earlier this week, Mooney-Bullock visited multiple classes and participated in the lectures, letting students use his puppets and teaching them the proper ways to sharpen tools.
Mooney-Bullock said he prides himself in his artistic approach to puppetry and he pulls a lot of his inspiration from puppetry all over the world including the South African Puppetry group-Handspring and other non traditional puppet groups. Bullock said he prefers not to do traditional puppetry because the audience knows what to expect.
"I like to make objects that are surprising when you first see them and you have to figure them out and you have to relate to them as objects and as puppets that are alive," he said.
"I tend to go between different traditions."
Students can learn more about Mooney-Bullock on his webpage at JesseMooneyBullock.com and learn more about the upcoming convocations at suu.edu/convocations.