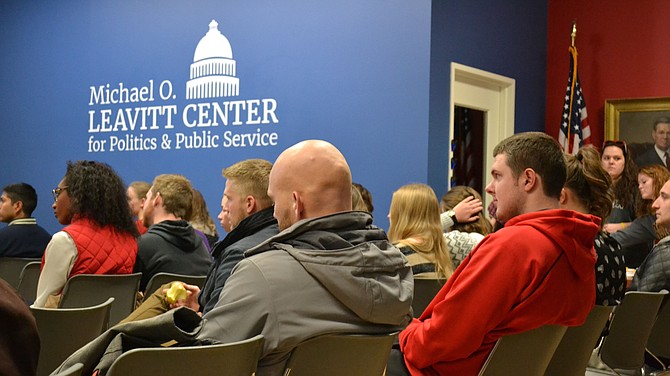 Audio clip
91 Update: Pizza and Politics
The Leavitt Center for Politics and Public Service hosted its weekly Pizza and Politics discussion Wednesday about politics in Utah.
The new Utah State legislative session started Monday and Leavitt Center Executive Council member, Danielle Gish said the center to talk about the importance of local politics.
"A lot of us think of politics on a larger scale, like within the nation but we need to realize what is happening right now in the state legislature," Gish said.
Funding for public education was the first topic discussed. Students talked about whether or not Utah schools were underfunded and what could be done to change it.
Utah currently has the lowest per-pupil amount of spending in the United States, spending $6,555 per student for their entire kindergarten through 12 education. Several students agreed that schools were underfunded, pointing out that teachers often have to spend their own personal money to afford school supplies.
However, Gish said the state is known for having more "bang for its buck" because Utah students ranked eighth nationally on their standardized academic testing in 8th grade.
Utah's Education Fund is the source that currently pays for all K-12 schools, as well as funding part of higher education. The remaining funding for higher education currently comes from the general fund, which is comprised of property tax, sales tax and other sources.
There is a proposed amendment being heard this legislative session that would alter the current system, and make it so that all income tax went to public education and higher education was solely dependant on the general fund. At first, the audience had a mostly positive reaction and Rama Hemphill, a sophomore engineering major from San Diego, California said providing more funding to primary education would be beneficial.
"Preparing students in K-12 prepares students better for college, or at least it's suppose to," Hemphill said. "So I assume that spending more money on them then would make them better college students and get them better jobs."
The caveat to the proposed amendment is that without funding from the Education fund, higher education would only receive money from the general fund. Gish said the Utah Board of Regents said the loss of funds for higher education could result in up to an 80% increase in college tuition in order to close the gap. Jaren Jeffery, a senior engineering technology major from Delta said the change didn't make any sense.
"We say millions of dollars but that is spread out of a lot of people so that increase per student is going to be pretty minimal and yet, my tuition for college is going to be pretty jacked up," he said "I think it's ludicrous actually."
The other part of the discussion focused on politics in sports, particularly the recent announcement that the University of Utah basketball team would not play it's rivalry game against Brigham Young University during the 2016-17 season. The decision to opt-out of its contract to play cost the university $80,000 dollars and Larry Kristowiak, the basketball coach for the school, said he would pay it himself if he needed to. Kendrick Gibson, a freshman biology major from Mapleton, said the change was unnecessary.
"If we are cancelling games over hurting people in rivalries, we should probably cancel more than just BYU and Utah," he said. "It's a heated rivalry, it going to happen because emotions are high."
The Leavitt Center hosts Pizza and Politics every Wednesday, with new topics each week, at noon in the center.