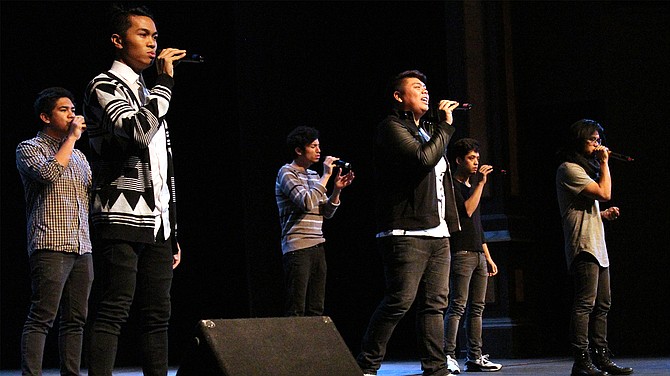 Photo Gallery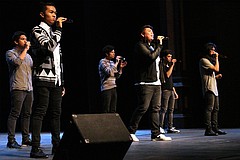 About 300 students filled the Auditorium Theatre Friday to watch the Filipino-American a cappella group, The Filharmonic.
Students danced, interacted, sang along and laughed with the group while they played a variety of 90's nostalgia, top forties and other various medleys.
Audio clip
91 Update: The Filharmonic
The Filharmonic is a six-member group who made semi-finals in the NBC's musical competition, "The Sing-Off." They have also appeared on stage with Linkin Park, Black Eyed Peas and Pentatonix. Most recently the guys can be found in the movie "Pitch Perfect 2" as Team Philippines.
To celebrate their time on "Pitch Perfect 2," the group sang an a cappella rendition of the film's featured song, "Flash Light." Students filled the theatre with lights, while singing along.
Katie Bittner, a junior graphic design major from Las Vegas, said she thought the concert event was amazing.
"I like how they took time between each song and brought out a different person from their group to kind of talk to us and explain what the next song was going to be," Bittner said. "My favorite song had to be "Flash Light," for sure. I loved "Pitch Perfect" so much, and that was such an iconic song in the movie for me."
The group is composed of vocalists, VJ Rosales, Joe Caigoy, Trace Gaynor and Barry Fortgang, vocal bass Jules Cruz and beat boxer Niko Del Rey. Del Rey and Caigoy said the group formed in college and wanted to perform to that same demographic.
"We've never been to Utah and we wanted to do a couple new shows out there," they said. "So, we really like to reach out to a lot of colleges and university, because that's the kind of demographic we are going for. We wanted our music to speak to our peers."
The group became interactive with the fans when calling out Isabella Able, a sophomore theatre arts major from Las Vegas during their rendition of "Rock with You," by Michael Jackson, and during a sexy medley where they brought on stage, Jessica Smith, a sophomore elementary education major from Varennes, Quebec.
Students got a chuckle when beat boxers, Del Rey and Gaynor did a beat boxing segment while singer, Fortgang jokingly stumbled to beatbox in comparison.
The groups introduced a new song as a part of their "Get Up and Go Tour", which they said SUU became the first concert recording of the song for the band's social media.
A student director, Greg Donaldson, a sophomore pre-nursing and theatre arts double major from Hyrum, said he remembered hearing about the group before they had played and was so excited about having them perform at the school.
"They came, and the crowed was amazing," Donaldson said. "I did not expect to see this many people show up, but the house is packed and it was amazing to see that. I feel like this is a door that is open now to get other amazing people with amazing talents like this to flood in and really retain that student body to get us to come together even more."