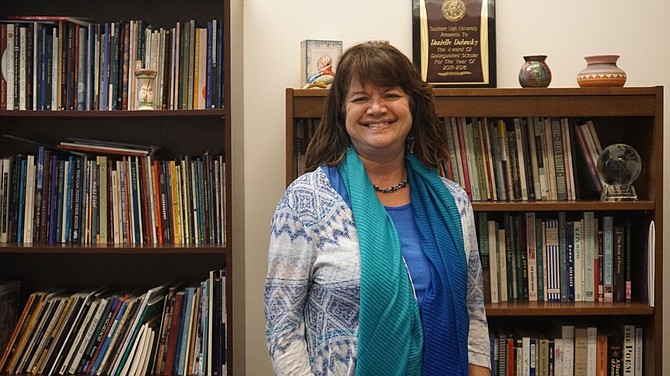 The Special Collections area in the Gerald R. Sherrat Library incorporates many aspects of nature in its decor, including plants native to Utah and Native American art. Danielle Dubrasky, associate professor of English at SUU, works in her office in the library surrounded by all this decor.
She wears a golden acorn necklace that indicates her love of nature — something she strives to incorporate into her work as a poet and pass on to her students.
Dubrasky has always been interested in poetry. In fact, she received a master's degree in creative writing from Stanford University, where she became interested in pursuing poetry as an academic career. When she relocated to Utah, Dubrasky obtained a Ph.D. at the University of Utah and became a professor of creative writing at SUU.
"When I moved from back east to southern Utah, the contrast of those landscapes became a very strong figure in my poetry," Dubrasky said.
Dubrasky grew up in Charlottesville, Virginia, and has lived in Utah for over 20 years. The arid environment of southern Utah, particularly in contrast to the lush and humid climate of the East Coast, is something that Dubrasky often incorporates into her own writing.
Dubrasky also includes her love for the Utah landscape in her classes. She encourages students to focus on using concrete details in their own writing by taking her classes on outdoor excursions.
"Dr. Dubrasky is all about nature," said Naomi White, a senior English major from Midvale. "She incorporates nature into all of her classes. They end up going on field trips, being outside and seeing how the images come together."
White recalled Dubrasky's enthusiasm for SUU's Day in the Parks, and how she encouraged her students to join in on hikes with visiting writers.
"It's a good location and a good place for a writer to be," Dubrasky said.
Dubrasky has worked at SUU since it became an university in 1991. She expressed gratitude that the arts are so prominent in Cedar City and that she can take part in the community.
"It's a good field to be in because you're involved with other writers," she said. "It's intellectually stimulating and I personally enjoy helping students feel comfortable writing poetry."
Dubrasky's passion for poetry is driven by imagery. She was influenced early in her education by poets such as Robert Lowell and T.S. Elliot, who often used natural imagery to lend meaning to their work. Dubrasky uses images, often selected from the southern Utah landscape, to convey emotion rather than explanation.
"I'm taking a class with her now about psychology in creative writing," Diana Moore, a senior English and psychology double major from Cedar City, said. "She is there to help students follow that creative pathway."
Dubrasky has also worked with the Utah Humanities Council to bring visiting writers to SUU for a reading series titled "Art of Literature," which is connected with the Utah Book Festival, a statewide reading series.
She also works as director of convocations and brings speakers from many different disciplines to campus.
"Writers love to visit us," Dubrasky said. "They love the area and they love our students. They say that these are some of the best students that they've worked with."