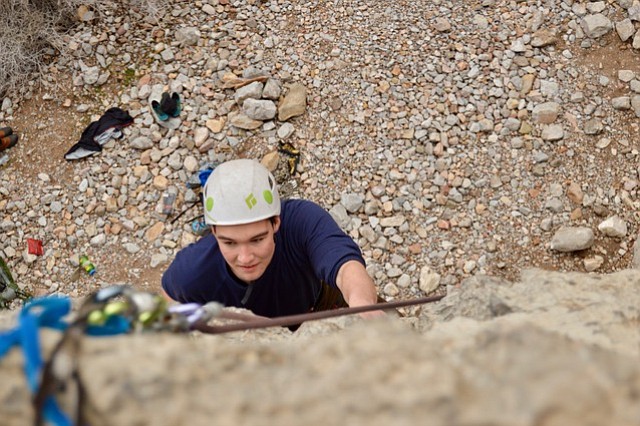 An alarm sounded in the inky darkness, playing some song that was set to wake me at a later, more enjoyable time of day. As I reached for my phone and stopped the blaring symphony, I lay and listened.
Rain pattered softly on the roof and collided gently with the window of my bedroom. It was Saturday, and it was still dark outside; why was I even up at this hour? Then a rush of thoughts and emotions poured into my mind: excitement, rocks, scraped hands and rough surfaces.
Today, I was going climbing with SUU Outdoors and photographing the experience. I quickly jumped out of bed and prepared myself for this fun and adventurous day.
As I continued my morning routine, I looked outside and saw the dark, ominous clouds sitting over Cedar City. My heart began to sink as I feared that our trip would be canceled; nevertheless, I continued to get ready to leave.
As I made my way to the SUU garage, I met up with the other members of our journey. Accompanying me on this trip was our trip leader Max Harvey, along with two other SUU outdoor employees, Alec Tatton and Jake Wahinehookae. Riley Carter, a fellow student, also joined us for this grand adventure. As they readied the required gear for our trip, the mood in the room seemed a bit solemn.
The rain began to fall harder and so did the faces within the SUU garage. We checked the weather in St. George to try to find a place where, just maybe, the rain hadn't touched the sheer cliffs that we planned to climb.
Finally, Jake and Max were able to find a place where they were optimistic that the rain hadn't fallen, at least for a few hours, and the rocks would be dry enough for us to climb. As we prepared to leave, the intensity of the rain picked up, as if it was daring us to just try and find optimism within the maelstrom.
As we made our way closer to our destination, the weather began to clear, and the mood of the group began to change as well. We turned onto an old dirt road that looked like nothing more than a cattle trail. Thankfully, our truck, had no problem tearing through the soft sediment that served as our road.
When we reached the rock wall, we saw the clouds hanging low, gently running their cold fingers over the walls that we called our playground. Even though the weather was not ideal, our group leader was not dismayed and started preparing our gear for the first ascent.
Jake took the lead and set up our first route, climbing up the wall with ease as if he were only walking up a flight of steps. As Jake climbed, Riley began warming up with some bouldering a short distance away. I grabbed my camera and started taking pictures of these guys acting like spiders, crawling to and fro on the rocks.
I wanted to test my skills and get some photos from the top of the rock wall, so I snagged my camera and got my harness on and tied into the rope. I grabbed onto the wall and planted my feet within the crevice. Everything was going great, and my confidence was as high as the rock wall I was climbing.
Then, in an instant, there were no more handholds, nowhere to go. I was stuck. I tried groping for something to hold onto, some little nook or cranny that I could get my fingers into and support myself, but there was nothing; it seemed like the wall had turned to glass. My arms began to get tired and my fingers felt as if they would let go at any second. I felt the cold chill of fear run down my spine as I thought to myself, "I'm going to fall."
Then, seemingly out of nowhere, my foot found a foothold. After that, a handhold appeared. Relief flooded through me, and my arms and legs encountered a new surge of energy as I kept finding solid handholds and footholds. As I made my way to the top of the crag, after what felt like an eternity, I anchored in and was able to get the shots that I wanted.
The rest of the time I spent at the rock wall was a flurry of excitement as the group climbed and rappelled up and down the face of the cliff. The clouds floated gracefully overhead as I captured frame after frame of the skill and experience of the climbers I was with.
When the time came for the excitement to end, I thanked the trip leaders for an amazing adventure and the opportunity to practice my art as well as capture the masterful technique they had within their art.

This is sure to be an experience I will never forget, and I implore anyone who hasn't been on a trip with the SUU Outdoors team to please go. It will be an adventure you will never forget.