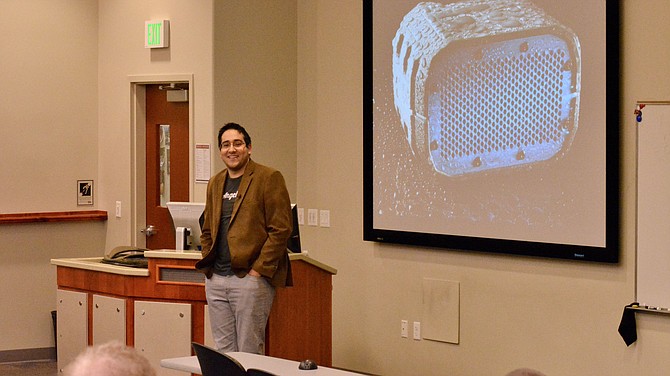 Diogo Myrrha was born and raised in Brazil, where he began cultivating a spirit of entrepreneurship at 9 years old. After watching his father and his father's friends play soccer on a hot summer's day, Myrrha had his mom take him to the store, buy a watermelon, then sell slices to all the players for $1 each.
Now, Myrrha is an investor and entrepreneur, and Tuesday he presented during SUU's Business College "Entrepreneur Speaker Series," a series of lectures from businesspeople on how to make it as an entrepreneur. Myrrha related life lessons and his journey to success to advise students on how to succeed in starting a business.
Myrrha described himself as a pretty typical kid. He had an inability to sit still and said he "never thought much of life to be honest, never had grand aspirations," until he began attending military school, which put an end to any roughhousing Myrrha participated in.
From there, he attended Brigham Young University, served a two-year mission for The Church of Jesus Christ of Latter-day Saints and then returned to BYU.
While the U.S. was his new home, Myrrha certainly appreciated his childhood in Brazil.
"The interesting thing about growing up in Brazil is that it kept my life in perspective," he said. "I dealt with all sorts of crime, I've been robbed a few times. That taught me some ease in hard situations. You can't control whether you get anxious about stuff or not, but you can choose what you do with your anxiety."
Myrrha took those lessons to heart when his friend and mentor, Warren Osborne, let Myrrha join in on the ground floor of a new company selling Bluetooth speakers.
"I was the number five guy in the company, which felt good," Myrrha said. "Number five guy out of five guys."
Then Osborne told Myrrha they were selling the company, and he was putting Myrrha in charge of the deal. "I didn't know companies could be bought or sold, to be honest. I had only slept through about 60 percent of my accounting classes at BYU so I did remember some stuff." And, just like that, Myrrha was thrown into a multi-million-dollar sale of a company.
With the money made from the sale, Myrrha started helping Osborne invest in companies, like VidAngel or essential oil diffusers. Eventually, Myrrha decided to move on without Osborne and joined Peak Venture Capital, where he resides today. "All mentors get fired eventually, which is a good thing, in my eyes," Myrrha said.
Now, with years of entrepreneurial and investment experience, Myrrha has a list of advice he wishes he'd known when he began working to sell Bluetooth speakers years ago.
His first piece of advice was for anyone: learn how to sell, regardless of being an entrepreneur or not. "It'll even do your marriage wonders," said Myrrha.
Second, Myrrha said to find a mentor, which he found in Osborne and several other people in his life. "I wouldn't proactively find opportunities to find a mentor. It's a lot better if these things come naturally, with trust," he said.
His third came with a little disclaimer, saying, "Counsel a lot with others. Then do whatever you want," adding that his wife said to double-check with significant others. Myrrha also said a lot can be discovered from someone who has no idea what they are talking about. "I really believe there is a lot of wisdom in a pool of fools," he said.
Next, he said to be willing to pay the price, relating this principle back to a story of trying to get a business off the ground and nearly having to miss the birth of his child, although he fortunately did not have to. He also added that this is the biggest reason to check with one's significant other, saying, "What that means is, don't make a decision that you're gonna be this great entrepreneur and work 18-hour days if she is not going to be OK with it or he is not going to be OK with it."
Last, Myrrha said to find joy in the journey. "Don't look for the pot of gold at the end of the rainbow," Myrrha said. "There's not a pot of gold at the end of entrepreneurship."
The next part of the "Entrepreneur Speak Series" will be next Tuesday at 11:40 a.m. in room 104 of the Education Building.