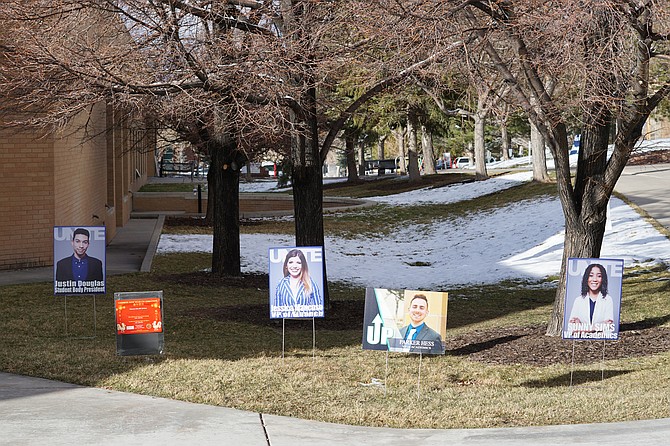 Southern Utah University Student Association Elections began on Feb. 22 and will continue until March 1. The election will be composed of two parts: primary and general elections. Students will be able to vote for members of two parties, the Unite party and the Up party.
In the 2016 SUUSA elections, students voted in favor of constitutional and organizational changes for the student government. This means the activities branch of the student programming board is now an ex-officio group under the student involvement office, a change that will allow SUUSA members to devote more time to student government functions. The changes this year will also allow for two more senators in the student government.
"They have now added a vice president of finance, who will oversee any finances for SUUSA, and for any clubs," said Tyler Andersen, assistant director of student involvement and leadership. "There are also two new senators, an upper division senator for junior and senior classes, and a lower division senator for the freshman and sophomore classes."
SUU's academic senate is dedicated to giving students a voice in university politics. Senators are representative of the different colleges that make up the university. Student feedback received by the senate is used to represent the student body to the Board of Trustees, the Dean's Council and to the students themselves while also providing meaningful academic experiences for students.
"I believe that everyone here has a voice," Ezequiel Torres, sophomore management major from Baker, Nevada, and lower division senator candidate from Unite, said. "We want students to feel like they are co-owners of SUU."
Included in the student government are also eight representatives of interest groups across campus, such as the SUU Center for Diversity and Inclusion, which change depending on the election year.
"The purpose of this is to have more people involved in the decision-making process," Andersen said. "In the past, the executive council would make decisions, and then the senate would make decisions, but now everyone is coming together."
Throughout the week, students will have the opportunity to interact personally with candidates for this year's election. Candidates will man tables at the Sharwan Smith Student Center and around SUU campus, where students can ask about election platforms for both parties and learn more about their representatives.
"These students who are running represent the student voice at large with administration and with faculty," 2017 SUU student elections Director Allison Hadley said. "Students need to vote in this election because if you want to see any changes in your college, this is your voice. I think students should vote for who they think represents them."
General elections will begin on Feb. 27. On the same day, students will also be able to attend the SUUSA Election Debate. The debate will take place in the Sharwan Smith Student Center Living Room, between noon and 1 p.m. Candidates will discuss how new SUUSA positions will change how the student government functions during the 2017-2018 academic year.
"Every person running is looking to improve the school," said Kevin Martin, a junior biology major from Bountiful, and member of the UP party. "A lot of student fees are controlled by SUUSA, so it's important to know who you're voting for."