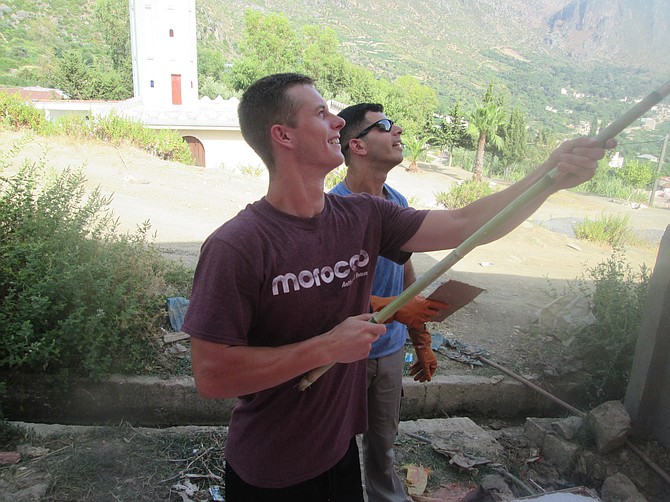 Anthony J. Braun, a senior interdisciplinary studies major from Cedar City, describes himself on his personal website, as a poet, writer, artist and world traveler. Just like many aspects of his life, Braun went the extra mile with his EDGE project by completing humanitarian projects with six organizations and getting the whole community involved at the same time.
Braun contacted local newspapers to cover his story, appeared on the morning show at Canyon View Middle School, and even made t-shirts for friends and family to raise awareness about issues abroad.
"I felt like it was important to raise awareness in the community because … I felt like this was something the whole community could take pride in, and I wanted to share the experience with as many people as I could," he said.
As a young boy, Braun said he was inspired to travel by looking through his father's collection of "National Geographic" magazines.
"I would scan through the articles about people making a difference in the world, about foreign destinations and distant cultures and I fell in love with the idea of volunteering abroad," he said. "Africa has always been on the top of my list because of the culture's diversity and depth."
Years later, he discovered the Cultural Understanding and Language Proficiency Program (CULP) through his service as a cadet with the Army Reserve Officers' Training Corps (ROTC).
Anthony traveled to Morocco in July 2016 and spent three weeks in various parts of the country, volunteering with six organizations, including CULP, World Unite, La Creche and Green Wave.
Braun said he had a broad impact on the country during his time in Morocco, participating in efforts to clean up the environment, benefit the disabled, educate the youth and provide resources for underprivileged villages. However, he said the most memorable service he performed was for a school in a town called Bab Taza.
"The school hosts 200-plus students from all grades, and we painted a schoolhouse that could be seen from 10 miles away," Braun said. "I could literally see the building from the second tallest mountain in northern Africa … I'm happy that we were able to make that kind of difference in a learning environment."
Another project, which Braun said deeply affected him, took place at an orphanage for mentally handicapped youth, many of whom were infants. After spending the day interacting with the children, a supervisor told Braun that he was good with the kids and suggested that he adopt one of them.
"I went to our living quarters and cried that night, because I didn't know where any of these kids would be in 18 years, and I didn't know how their living conditions were going to be," Braun said.
Before and after the trip, Braun appeared as a guest speaker on the "Morning Show" at Canyon View Middle School, where he shared his experiences and insights about goal-setting, leadership and overcoming adversity.
Conrad Aitken, the principal of Canyon View Middle School and host of the "Morning Show," invited Braun to speak in order to inspire other students to follow in his footsteps.
Braun also used the project to complete requirements for his English 2040 class with professor Jennifer Sorenson. She said Braun went the extra mile to make his project great.
"Anthony was an excellent student who asked me to challenge him," Sorenson said. "He wrote a proposal outside of the assignment guidelines that met his needs, and I approved it for him … I feel that this type of assignment gives students a chance to apply their learning, problem-solve and be creative."
Aitken added, "I hoped through Anthony's visits we could raise the social consciousness of our students even if it just meant they could be kinder to each other here at school. If others were inspired to set goals as Anthony has done, that would be all the better."
Braun said the process of planning and completing his project helped him to strengthen his leadership skills, develop patience, and learn about foreign cultures. He says he hopes to educate his peers about cultural issues by sharing his newfound knowledge.
"I find myself correcting people when they present wrong or misguided cultural stereotypes," he said. "We need to remember that we have more in common with people than we think, and Americans are so ethnocentric sometimes that it is hard to change the mentality."