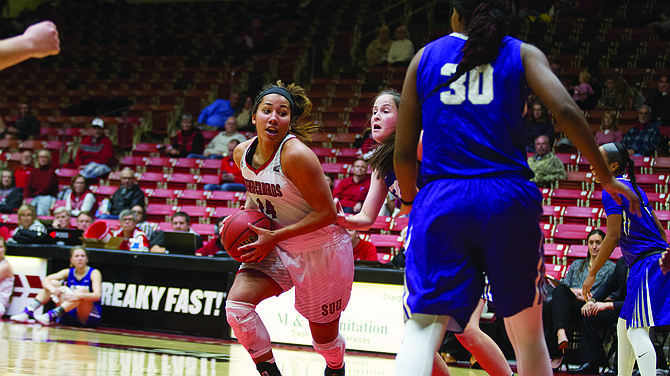 Southern Utah University's women's basketball team's losing streak was extended to six games in a row after losing last night to the Vandals of the University of Idaho, 68-85.
"Short-term memory is important to stay positive," Head Coach Chris Boettcher said. "I trust in our kids that they are not quitters they are competitors. . . We keep showing up and one of these days it goes our way."
SUU struggled to score in their first few possessions of the game, but two 3-pointers made by senior guard Jamie Smith put the Thunderbirds on the scoreboard. At the end of the first quarter, the Thunderbirds lead the game 17-11, shooting 53.8 percent from the field.
At the start of the second quarter, sophomore forward Darri Frandsen took contact and finished on a layup for the Thunderbirds resulting in a 3-point play after making the free-throw attempt.
The Thunderbirds extended their lead to 13 points with good passing by junior center Whitney Johnson, who assisted sophomore Breanu Reid on a 3-pointer.
Both teams traded 3-pointers, combining for seven 3-pointers in the second quarter. The Vandals shot 4-14 in the second quarter from behind the 3-point line and the Thunderbirds shot a high percentage of 50 percent on 3-6 shooting.
By the end of the first half, Idaho pulled within 3 points of the Thunderbirds, making the score 34-31 in favor of SUU.
SUU came out of the half picking up where they left off, knocking down 3-pointers. Smith and Reid hit back-to-back 3-pointers to widen the Thunderbirds' lead.
The Idaho Vandals took the lead 51-49 with 2:26 left in the third quarter off a 3-point basket made by junior forward Brooke Reilly. Frandsen quickly tied it back up for the Thunderbirds 51-51 off of a wide-open layup.
Vandal sophomore guard Mikayla Ferenz beat the buzzer with a 3-pointer to give Idaho a 5-point lead over SUU to end the third quarter. Idaho took a 12-point lead, their biggest lead in the game, on another 3-pointer that Reilly made. The Vandals continued to build on the lead, extending it to 17 before the end of the game.
"We are really disappointed," Smith said. "This whole week of practice we have been really well-prepared. And we felt like we had a chance to come out and do something this game, but unfortunately it didn't work out."
The Thunderbirds were led by Smith, scoring 34 points and shooting 8-17 on 3-pointers.
"It was a good shooting game for me," Smith said. "It was thanks to my teammates. I was getting good open looks because they were setting good screens and making good passes."
The Thunderbirds will take on Eastern Washington tomorrow in Cedar City. Tip off will be at 4 p.m.