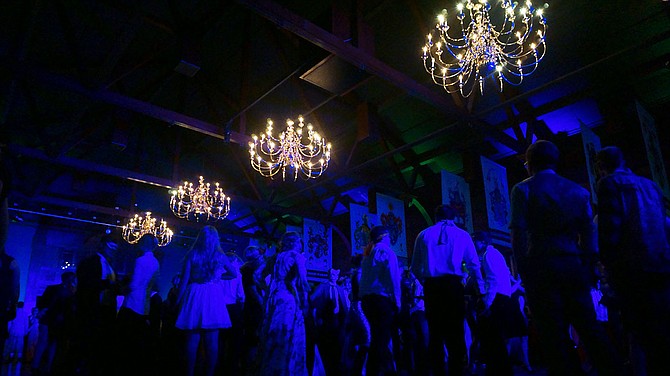 The R. Haze Hunter Conference Center glittered around a crowd of masked students last Saturday. The classy masquerade theme featured lights, glittering and feathered masks, classy attire and photo-ops.
Ryan Conti, a junior communication major from Las Vegas, said the dance went really well and everyone was dressed to the nines.
"I think a lot of students really like to both dress up and come to dance events, so mixing the two was really fun," Conti said. "Everyone came with really cool masks as well."
Ines Bouarge, a junior communication major from Paris, said she really enjoyed the classy atmosphere and even felt a little underdressed.
"I saw those girls with those beautiful masks with glitter and stuff on them," Bouargue said. "It looked so good; I was jealous."
The dance included a coat check by the entrance for the convenience of the students; however, the attendance was so large, it quickly became flooded with coats.
Last year, the dance featured a classier atmosphere with live music, but this year, SUUSA wanted to bump up the energy and had DJ Sora provide the music.
Bouarge came with a group of friends to the dance. She said she and her friends enjoyed the music most and she thinks it gave the night a young and fun atmosphere.
"My favorite thing was probably the music because last year it was kind of different," Bouargue said. "This year it was more of a college vibe. ... There was a really good DJ. He played music that all of us liked."
Pierre Olie, a freshman outdoor recreation in parks and tourism major from Paris, compared the dance to those in his home country. He said he wished the event could have gone on for more than two hours. He also said he missed the alcohol.
"It's kind of like a prom, and it's not the same thing as in France, but it's still good," Olie said. "The venue is really beautiful. All of the people were well-dressed, so that was cool, but I miss the bars."
At the end of the event, Conti said he felt that overall, the event went marvelously with a large attendance and a great DJ. He said he hopes next year's activities board decides to continue the tradition of the Masquerade.
"The Masquerade is so much fun," Conti said. "Everyone got to come and dress up and dance with the DJ. We had food, picture opportunities, it was a good event."