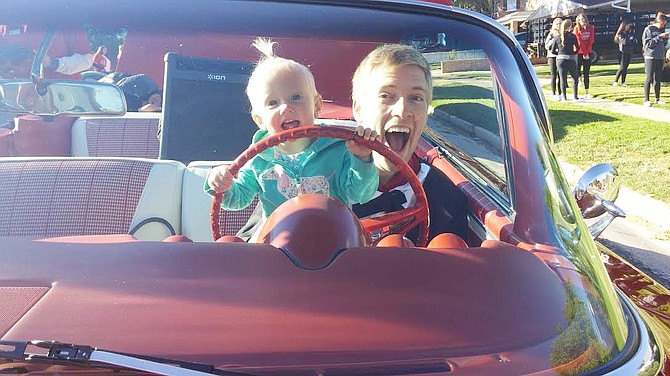 Marshal Beach is a husband, father, student and student director of the Michael O. Leavitt Center for Politics and Public Service. Beach is a senior interdisciplinary studies major with an emphasis in communication, political science and psychology.
Although it may seem like Beach spends most of his time at school, he also manages to balance life with work, family and his hobbies. He has been married to his wife, Molly, for about two years and has a 15-month-old daughter.
When asked how he manages all that he has to do, Beach replied that he has to be very strict with his work hours and sometimes needs to cut himself off.
"Sometimes I have to delegate it or just prioritize it for later when I'm at home," he said. "I try to get my homework done at school, so when I get home there's nothing else but my family."
Beach has been at SUU for two years. He previously attended Snow College for his associate's degree but wanted to continue his education and enrolled at SUU.
Beach said he has not always been so involved and busy in school because he was homeschooled until he left for college, but serving a mission for the Church of Jesus Christ of Latter-day Saints helped him make the transition.
"On the mission … that's what they put into your head is goals," he said. "It taught me how to prioritize and set goals, always making sure I'm using my time wisely. I was intimidated by it (college) and I thought it was going to be really hard. I actually considered myself, before college, quite ignorant about the way the world works and it motivated me a lot because I didn't know the things my friends knew growing up."
Although he said he felt uninformed before college, his peer Ayleen Perry, a sophomore English major from Las Vegas who works with Beach at the Leavitt Center, said he is an adept leader. "Instead of telling us what to do, he's always willing to help us do it," Perry said. "Instead of telling us where to carry the cargo he is willing to help us carry it to the destination. He always gives us positive criticism … he's really good at encouraging us to do better."
Aside from all that he does, Beach mentioned he also takes interest in figure drawing, martial arts, wilderness survival and Native American dancing.
Taylor Cella, a sophomore computer information systems major from Syracuse, said she hasn't been working at the Leavitt Center for long but has enjoyed working with Beach. "It's all been kind of new to me here, and Marshal has been really good at helping me out," Cella said. "He has kind of helped me figure it all out. He's great, and he's a good worker."
When asked about what he wants to do after his time at SUU, Beach replied he wanted to continue and receive his master's at SUU, but long-term, he did not know what was in store.
"I haven't figured out yet the one thing that I'm most passionate about, and so I'm one of those students who just never figured it out, so to speak," Beach said. "What I'm trying to do is get the education I need while making sure that it's versatile so that whatever comes my way, I am able to do it and just seize opportunities."