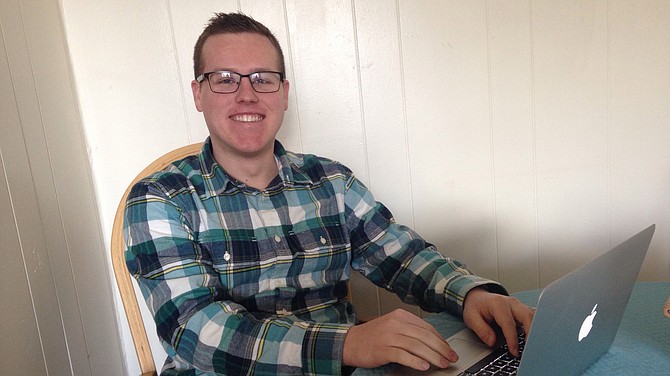 Scott Chapman, a senior business management major from Hemet, California, revived an old hobby and implemented skills pertaining to his major to start a game design business while completing his EDGE project in the process.
Chapman said he had experimented with game design in high school, but he dropped the hobby after serving a two-year mission and beginning his studies at SUU. All that changed, however, when he found an old file on his computer and showed it to his brother.
"The inspiration to start Goofball! Mobile Games came when my brother, in an effort to get on the top 10 score list, stayed up until 5 a.m. playing it," Chapman said. "This got me thinking that, perhaps, I had stumbled upon an idea that had potential. In connection with my major, I thought this could be a great opportunity to learn more about business start-ups."
After deciding to take on the project, Chapman had a lot to learn, not only about game design, but also about starting a business. The process required him to purchase licensing for the software and an Apple developer membership so he could distribute his games on the iTunes app store. He also had to register as a sole proprietorship, gain a "Doing Business As" license, start business checking and savings accounts, sign up for Google mobile advertising, create business social media platforms and more.
After the hassle of starting his business, Chapman then struggled with learning new coding techniques that he had never encountered before.
"I had to really expand my knowledge because there comes a point when you're making a game when you realize that you want to do something and you have no idea how to do it," he said. "I don't have a mentor or anything, so I just had to self-teach myself how to do all these things."
Eventually, Chapman produced two separate games named Goofball! Drop and Goofball! Pop. In Goofball! Drop, the player works their way through each level to reach the goal at the bottom. The levels feature different themes and obstacles from alien space ships to hot lava. The game also includes a "challenge mode" which is the original game he made in high school.
Goofball! Pop requires the player to protect a cluster of balls by shooting down mines as they move toward the group. The game uses bright colors and alluring sounds to make it more fun.
Emma Chapman, a high school student from Hemet, California, and sister to Chapman, plays the games frequently. She described Goofball! Pop as simple, yet unique and fun.
"This game is so fun to play," she said. "Each level grows more difficult and even more fun. I could, and have, played this game for hours. I absolutely love it."
Though Chapman had very limited experience in designing games and running a business, people from all over the world have viewed and downloaded his app from iTunes. According to statistics from his business's Facebook page, the demographic who engages with his advertisements most are teenage men in England.
Chapman's wife, Jenna Chapman, a junior communication major from Cedar City, said she helped during the development process by giving feedback and advice about the layout, color and sound of the app. She also said she supports his endeavors to continue the business and hopes to see the product grow in popularity.
"Scott is good, but I feel like if he had more computer science training then he would be better," Mrs. Chapman said. "I think that it could get somewhere if he could find some collaborators to work with him, or if he just keeps going. I think it totally has the potential to be something, but, you know, not everyone can design Flappy Bird."
Since the launch of his first two games, Chapman has developed another game, called "Light Dash Colors." All three of these games are available for free download on the iTunes app store. He also received a $500 scholarship from the EDGE program for his project, which he hopes to invest by purchasing the Android exporter software, so he can expand his market.
Chapman said he learned a lot while completing his project, and he plans to continue developing games whenever he has time.
"I am proud of it and I think it's something that I can bring up in job interviews to set me apart," Chapman said. "I learned a lot about how small business works, about how social media advertising works, how Google advertising works. So just a lot of things that will be beneficial."