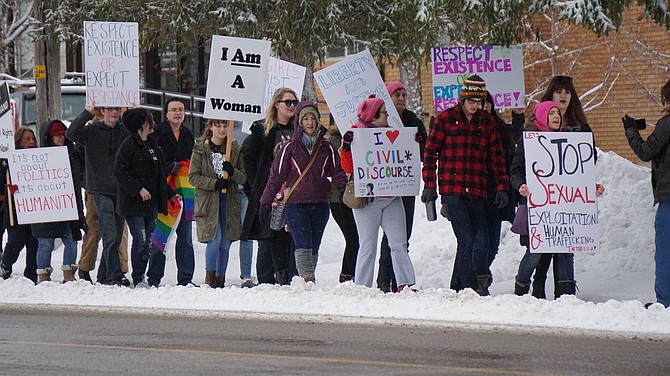 As snow fell on Saturday morning, 55 students, faculty and community members gathered at the belltower to march in "The Men's and Women's March on SUU."
Carrying signs, the participants marched down West University Blvd., turned left and went down South 800 West and then turned left onto Thunderbird Way. They finished by walking to the Business Quad and having a speak-out.
Ksenya Plumb, a junior sociology and criminal justice double major from Ogden, organized the event.
"We just wanted to give you an outlet to come out and respond to Inauguration Day and whatever that means to you," she said. "This isn't a protest, it's hope for the future. We are happy for our new president, we're happy for what he can bring to the table and we're just hoping that everything is going to be good for everybody in the future."
The march was hosted by the Human Rights Advocates Club, Black Student Union and Our Power Club.
Skyllar Danise, a freshman political science major from Henderson, Nevada, participated in the march to support equality.
"I marched to be heard and I marched to listen," she said. "This is how I call attention to women's rights and inequality of all other groups in the most accessible way, rather than just sit around because I feel that is not productive enough. It's recognizing my privilege and paving the way for a better future for all."
Deb Snider, assistant professor of art education, talked during the speak-out.
"You're cold and I'm old, so I'm going to keep this short," she said. "I've been an activist since I was in high school … I'm here not to protest, but to support equality. Let's do what we need to do to get out and make that happen."