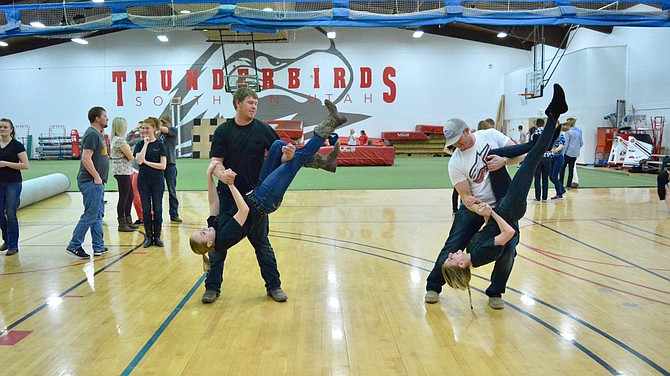 SUU students kicked off their Sunday shoes on Wednesday at SUU's Swing Dance Club's weekly practice.
This is one of the oldest clubs in SUU's history. Club President James Scales, a senior nutrition and exercise science major from Kanab, said the SUU Swing Dance Club has been around for approximately 20 years. The founders created the SUU Swing Dance Club to give the students of SUU something fun to do every week. Mariah Clayson, a sophomore nutrition and chemistry major and vice president of the club from Kanab, said the club wants to see Friday Night Dancing come back and be as popular as it was in the old days.
"A lot of people like it, it's just a fun and carefree activity".
On Wednesday nights from 8-10 p.m. in the gymnasium of the Multi-purpose Center, the Swing Dance Club teaches everything from the basics to more intricate moves, like lifts and dips. While the majority of the time is spent getting formal instruction from the volunteer instructors, the last 30 minutes are usually left for time to turn on the music and just have fun.
Tesha Kerr, a sophomore Spanish major from Las Vegas, said the biggest struggle of the club is the lack of guys.
"Luckily, I'm outgoing, so if I have a girlfriend here with me I'll just dance with her," she said, "but sometimes it's hard to dance when there's no guys to be your partner."
According to SUU's 2014-2015 enrollment statistics, 55.19 percent of students were female, and 44.81 percent were male. Although the ratio of women to men differs, if a student cannot find a partner the instructors are always more than willing to help anyone out.
However, there are some nights where the instructor-to-student ratio is a little heavy. Scales says he's seen nights with over 100 students in attendance. He's also seen some slower nights with only 10 students, depending on what's going on around campus. "It's more fun with more people," he said.
For students who frequent the Swing Dance Club and would like to become instructors, it's a pretty simple process. Scales says students just have to talk to him and let him know they're interested. Then they perform a few of the moves to show that they are doing them correctly and show that they can teach. There are leadership opportunities available for those who would like to be more involved. Scales said there's an election at the beginning of each year to select a president and vice president.
"Just come and try it out," Kerr said. "It's super fun and the tricks aren't that scary. It's just a good, fun time."