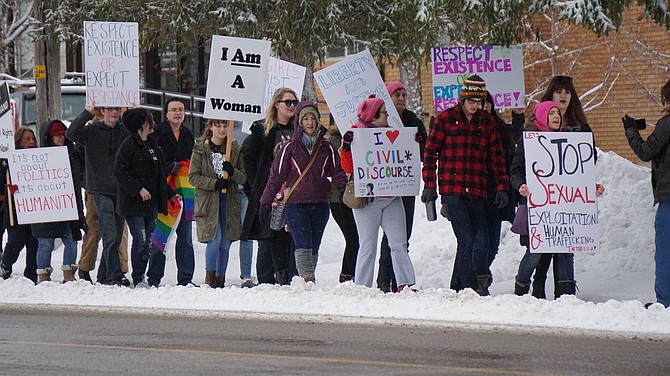 On Saturday, Karen Ferguson's mom died from breast cancer. The same day, she took to the streets of St. George with her son, Connor, along with almost 1,500 others to support the local Sister March.
Ferguson's mother, Vivian Robb, fought for women's rights throughout her lifetime, and Ferguson said Robb would have wanted her and Connor to march.
"She was a big believer in teaching her boys to be feminists too," Ferguson said. "She got that from her mother, who marched in the 1913 Women's Suffragette Parade. She fought for women's rights, and I think that we just have to keep fighting. We can't go back."
Main Street was lined with marchers decked out in pink and holding signs on both sides. Car horns sounded throughout the two-hour event, and many drivers waved at the crowds.
John Hunt, a retired university professor from Ivins, marched to support equality.
"I'm delighted that there is such a wonderful turnout — it's all over the world," he said. "It means that maybe the new people in power will pay attention and reach out to women and consider funding things like Planned Parenthood and other programs that we may lose under this administration."
While Hunt held a rainbow umbrella in support of the LGBTQ community, his wife, Kristin Hunt, carried a sign with quotes from Martin Luther King Jr. She said she has been a human rights advocate since childhood, and that activism is now more important than ever.
"Women's rights are human rights," she said. "There is a great deal of joy when all of us are involved in being active and being a part of our democracy."
The march would not have been possible if it weren't for Eva Livingston, a nurse from St. George. After meditating before the event, Livingston and her friend Mari Shirley decided to march with around 20 friends. They posted the event on Facebook, and the number of marchers rose quickly.
Livingston said the Women's March on Washington and the 673 affiliated Sister Marches are celebrations of women.
"We're here to celebrate women and to be part of the cause and to show how important it is for women's rights to be heard," she said. " ... We are standing up against hatred, we're standing up against fighting, we're gathering as women to start a dialogue with people … let's just come together as humans in humanity and come up with solutions to problems rather than just fighting."
Shirley agreed, adding she is also marching for minority groups.
"It's way past time to make a stand not just for women, but for all of our marginalized groups in this country," she said. "When we are working together, when we are showing up together, there's nothing that we can't overcome."
Livingston said the movement for equality needs to start at the local level, where individuals can have the most influence.
The marches across the world were meant to show solidarity, but some of the participants came for political reasons. Jane Rhodes, a retired Dixie State University professor from Hurricane, said she marched because she doesn't agree with President Donald Trump's views, especially on health care.
"He signed off on the Affordable Care Act, erasing 30 million people off the roles for health care just so the rich can get a tax break," Rhodes said. "That is not making America great. I'm here in solidarity with the other women and men and peace-loving people all over the United States who aren't going to put up with this anymore."
When she was in her 30s, Rhodes divorced and lost her job. Her doctor wouldn't accept Medicaid, so she relied on Planned Parenthood to get necessary care.
"Now, I have money and I have health care, but I know what it's like to do without it," she said. "This has got to stop. We need universal health care for our children and our grandkids. It's not just Medicare that's going to get affected."
Although she hasn't been involved in politics for a while, Rhodes said she will express her opinions more frequently.
"Now's the time for everyone to get up and get active because you're going to lose it," she said. "Our democracy is going to be gone."
Most of the participants in the march were from Utah, but some came from across the country. Joan Justice, a retired union leader from Fairborn, Ohio, came to the St. George march because she was visiting friends in Mesquite, Nevada.
Like Rhodes, Justice said she is scared about losing health care.
"I'm afraid for what's going to happen to America, and (Trump) signing an executive order to start cutting back on the Affordable Care Act," Justice said. "I think that's very scary for a lot of people."
Justice said the march shows women will not stay silent when faced with adversity.
"I'm very impressed with this march," she said. "It means that we're going to stand up for something and not let little things get by us. If I had been home, I probably would have gone to Washington, but it means a lot that women are at last saying 'Hey, we're important people.'"
Nicole Gregory, a bartender from St. George, said she was active in the election and marched for her family. Her two fathers adopted her in Salt Lake City when she was 2 months old, which was unheard of at the time.
"I voted to prevent all of the fear from happening and so that I wouldn't have to stand up and fight as hard as I did when I was a child for the rights of my friends and my family," she said. "I'm here today because I still believe in that fight and because people have to keep fighting that fight."
Gregory said she was surprised by the number of people who showed up to march, which, at the final count, was 1,475 participants.
"It feels lonely in St. George sometimes," she said, "but clearly, we are not alone."