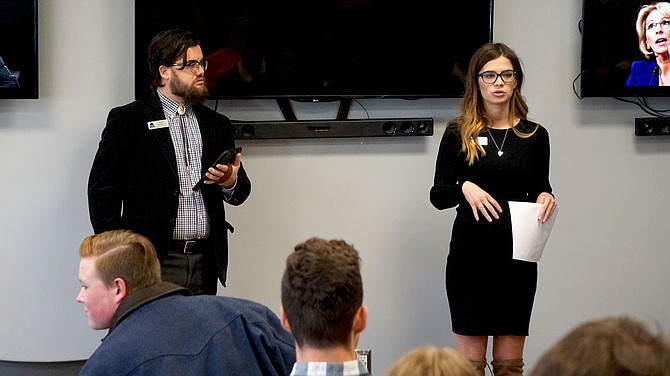 Trump's Cabinet was the topic of this week's Pizza and Politics discussion held in the Michael O. Leavitt Center for Politics and Public Service.
Leavitt Center Executive Council members Jake Richins and Sidney Warick moderated the discussion centered around the controversial subject, beginning the meeting with a brief introduction of each of Trump's Cabinet nominees.

The discussion was then opened up to the audience. Students voiced their biggest concerns with Trump's selected Cabinet members, explaining which Cabinet picks they find most troublesome and why.
Neal Forbes, a freshman psychology major from Portland, Oregon, said he disapproves of several of the Cabinet nominees, chiefly Rex Tillerson, Jeff Sessions and Betsy DeVos, and listed his reasons why for each. Forbes said Sessions, who is the nominee for the United States Attorney General, should be disqualified as a serious contender because of his disturbing history of uttering racially insensitive remarks.
"Jeff Sessions is not a friend of civil rights or racial equality," Forbes said. "He has been turned down for appointments before based on his history of racist comments."
Another audience member said he was especially bewildered by the fact that Rick Perry is our impending leader of the Department of Energy, a department he notably wanted to eliminate entirely in 2011.

Many audience members agreed that Secretary of Education nominee Betsy DeVos is unfit for the Cabinet. Several of them claimed she is inexperienced, incompetent and unworthy to lead the Department of Education.
Other audience members expressed concerns about other Cabinet members, including Ben Carson, who is nominated for the Secretary of Housing and Urban Development.
Audience responses led directly into the next discussion question, which was, "What constitutes being qualified for a political position?"
Zach McNaughtan, a senior finance major from Heber City, said for him, qualification is dependent on ethics and that ethical people can be expected to consistently respond in accordance with their ethics.
"What constitutes qualification for me is ethics," McNaughtan said. "When someone is ethical, they are predictable. That's what's so scary about some of these Cabinet picks: a lot of them are unpredictable, have switched positions over time and have done things that compromise their ethical standing."
One audience member wondered why we place so much weight on the experience of Cabinet nominees and said people shouldn't be surprised by the nominees when Trump, who had little to no prior political experience, is doing the appointing, implying that it only makes sense for his Cabinet to reflect this.
Another audience member said nominees should be able to uphold the objectives and obligations of their respective Cabinet positions to be qualified. This person thought the fact that Trump's nominees have expressed desires to radically reform, dismantle or destroy the agencies that they have been selected to run should disqualify them.
To this argument, another audience member retorted that maybe that is precisely Trump's prerogative in nominating these individuals. Therefore, Trump is doing exactly what he set out to do, which is minimize government.
One audience member said he is worried Trump is simply appointing his "friends" for these prestigious positions and is concerned about the motivation behind their nominations more than he is concerned about their qualifications.
The topic of discussion then transitioned to whether audience members think Trump's nominees are being rewarded for their support, donations and endorsements.
Robert Marks, a freshman aviation technology major from Windom, Minnesota, said many members of the Trump administration are cashing in on favors, but this is to be expected in any administration or public office.

"Of course they're being rewarded," Marks said. "That's how politics works, but this is nothing new or unique to Donald Trump."
The next topic discussed was personal agenda. Discussion leaders asked audience members if they think individuals coming from the private sector can separate their personal agenda from their political beliefs.
Some audience members said they believe it is possible to be objective and refrain from pushing one's agenda when it comes to policy-making. However, others said separating the two is an impossible feat.
Jacob Frances, a freshman construction management major from Moab, said an individual's personal agenda can't and should not be separated from the position they hold.
"I feel like our personal agendas make us who we are," Frances said. "Everything that motivates me is my personal agenda."