Posted: Sept. 18, 2016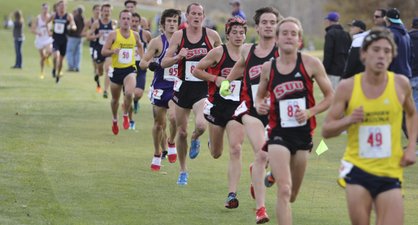 SUU's cross-country program is taking flight nationally.
The Latest
Latest Headlines

SUU's Kasey Knevelbaard, a sophomore from Caruthers, California, led the men's cross-country team to a victory in Logan. Knevelbaard, named Big Sky Cross-Country Athlete of the Week, ran the 7K course in 20:56.18 averaging 4:49 per mile. This is Knevelbaard's first Athlete of the Week honor.

The 2015-16 school year was a successful year for athletics, at least for the most part. What made it successful? The athletes of course.

Throughout the 2015-16 season, SUU Athletics has made some significant changes and accomplishments across the department and in each sports team.

One unique aspect of being a distance runner on the SUU track and field team is those runners, in a sense, compete in three seasons over the course of a year.

Along with senior Hayden Hawks being crowned as the All-American, the SUU men's cross-country team finished 21st in the NCAA National Championships race in Louisville, Kentucky Saturday afternoon.