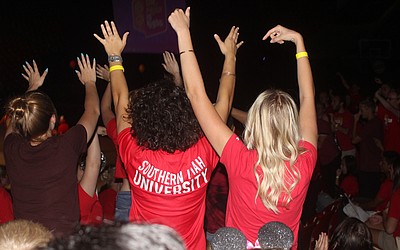 With a fireworks display in the Centrum Arena, Thunder University (Thunder U) came to a close Saturday.
Other Stories
The owners of Sushi Burrito, a Japanese fast-food restaurant with a broad variety of burrito-sized sushi rolls, have officially opened for business in Cedar City.

Southern Utah is home to the Mighty Five national parks, so on Aug. 25 SUU students, faculty and staff took a campus-wide field trip to visit the parks.
A car crash on 200 South left SUU's campus in a power outage on August 8 at around 11 a.m.
Pokémon Go, the phone app based on GPS signals and the Pokémon media franchise, has swept over college campuses throughout Utah.
A concise look into events, happenings and changes for the SUU community. Current events: Tour of Utah to begin in Cedar City, PokéStops cover SUU campus, Plasma Center to give back and talk health, Former SUU President died earlier this month.