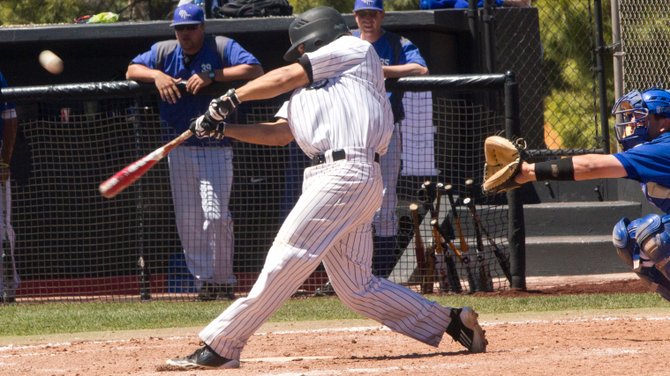 With baseball season coming to an end, the T-Birds look to continue careers elsewhere.
Along with SUU players, interim head coach Clayton Carson hopes to continue to his coaching career.
"Obviously I'd love to stay in coaching," he said. "A lot of job opportunities are going to open up as the season ends, so I'm going to play it by ear and reach out to the different contacts I have."
Carson said a majority of the players are looking to play baseball at the collegiate level.
Junior pitcher Kelsey Outram is one of only a few players who has decided where he will be next year.
Outram plans to pitch at Saint Mary's next school year while attending graduate school.
"I have to complete my application for their graduate program and go through that process still," he said. "Once I turn it in, I can sign my scholarship for next year."
Carson said the Saint Mary's coaches have been eyeing Outram since the first game of the season.
"That was really set up by his first outing of the year," Carson said. "(Outram) just absolutely dealt against them, and they were on him from the start."
Carson said other players are looking to play at Dixie State, Utah, UVU, Colorado State-Pueblo, Youngstown State and some schools around the Summit League.
Junior Chase Rezac said he's narrowed down his search to Utah and UVU.
"I'm trying to finish out the season well and just go from there," Rezac said. "I'm hoping to make the decision after the draft process in the middle of June."
Carson said it will be more beneficial for the players to decide as soon as possible for scholarship reasons.
"There isn't a certain deadline," he said. "They can sign all the way up to the start of the school year next year. It would be better to commit sooner, so there will be scholarship money available to our players."
Although many T-Birds are transferring to continue to play the sport, there are a few who have decided to stay at SUU.
Catcher Taggart Lunceford said he feels fortunate to be a part of SUU's program but wants to finish up his degree and move on.
"I have about a year of school left, so I am planning on coming back to finish up my degree," Lunceford said. "I've had lots of opportunities and memories here. Not everyone can say they've had the chance to play a Division I sport, so I'm glad I was able to be a part of it."