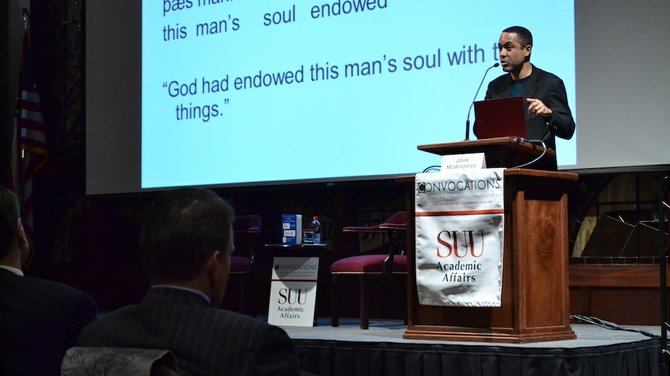 Author and linguist John McWhorter, an associate professor of English and Comparative Literature at Columbia, came to SUU on Tuesday to deliver a Convocation in which he informed students about how the English language came to be what it is today.
At 9:30 a.m., a breakfast meeting was hosted for a small group of students, giving them the opportunity to speak with McWhorter one-on-one before the Convocation began.
Ray Grant, director of Convocations, said he felt these kind of meetings are extremely important.
"These small gatherings are where students get to ask their own questions in an intimate environment and get that "Aha" moment," he said. "John sat at their table and answered their questions and I think it went extremely well."
Abdul Aziz, a business graduate student from Saudi Arabia, said he came to the Convocation because of his interest in what is happening to the Arabic language.
"There are a lot of Arabic students studying here in America and in Canada," he said. "I want to know the effect these English-speaking students are having on Arabic when they come back to Saudi Arabia."
Aziz said many Arab people now use such phrases as "LOL" and "BRB" in texting without even knowing why they use it, and he hoped to get an answer as to why.
The lecture began at 11:30 a.m. in the R. Haze Hunter Conference Center with Grant welcoming students and faculty.
McWhorter began the Convocation by talking about the beliefs people hold about what a "real language" is.
Many people believe there is a proper way to speak English, and that a lot of native speakers "go around speaking it wrong," he said.
"People seem to believe there was a time when there was a standard and correct way to form the language, and since then, it has sort of fallen apart," he said.
English is really a mixture of a few languages all spoken badly, he said. McWhorter went on to explain the origins of the English language.
An Indo-European language split into Proto-Germanic around 500 B.C., and after that became Old English, he said.
"If you ever had to suffer through Beowulf in school, you have seen Old English, unfortunately," McWhorter joked.
English as we speak it began to emerge when the Vikings came to Denmark, where Old English was being spoken, he said. English is peculiar in its grammar, he said. The Scandinavians learned to speak Old English as adults and therefore left out the more complex grammar, McWhorter said.
"Children learned language orally then because there were no schools, so the mistakes being made were just copied into the language," he said. "English today is actually just really, really crummy Old English."
After giving this condensed history of English, McWhorter discussed Creole languages and fielded questions from the audience.
Continued from print edition, page 6
"2000 years from now, I think it's possible that English may have eaten everything else up," he said. "Or there will be roughly, English, Mandarin Chinese, and Indonesian." Later, in a small luncheon, McWhorter added Arabic to the list of languages that could survive for the next two millennia.
After the Convocation at a small luncheon, McWhorter gave advice to students wanting to get more involved in linguistics.
"There is a series called ʻThe Great Courses' with 36 lectures where you can learn any subject," he said. "If you want to get an introduction on how linguistics works, there are three lectures in that series. One of those sets would be a handy way to get a sense of what linguistics is like."