Posted: Feb. 2, 2017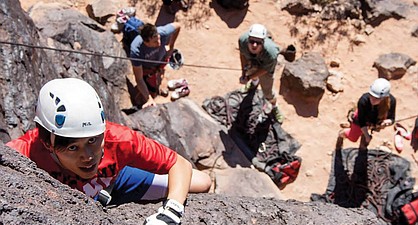 Nestled in between Zion National Park, Cedar Breaks National Monument, Bryce Canyon National Park and several other national parks is Southern Utah University. Many of SUU's students take advantage of their location to get out and explore.
The Latest
Latest Headlines
As the sun rose over the Vermillion Cliffs of Kanab last Friday morning, a crowd of hot air balloon pilots, event organizers, volunteers, sponsors and spectators waited in suspense to see if the weather would permit a hot air balloon flight on the first morning of the 2017 Balloons & Tunes Roundup.
Standing behind my camera, I feel a mix of emotions. Sometimes I'm relaxed and other times I'm stressed. Either way, I'm happy.
The Intergovernmental Internship Cooperative (IIC) turned 10 years old with a celebration of the outdoors. Founders and new interns alike attended a celebration at the end of January and a larger celebration is in the works for the end of the summer.
Homegrown in southern Utah, Jeremy Evans is taking the biology department by storm. Evans is a senior biology and zoology major from Hurricane who not only enjoys his studies but also takes advantage of every opportunity to learn more about his field.
When The Naked Waiters, a homegrown Cedar City trio, were announced as third place winners in the 2017 Kanab Balloons & Tunes Roundup 2-Day Battle of the Bands competition, only one band member took the stage.

Disclaimer: Do not try these methods at home. They are intended for emergency purposes only.
More News
Latest Stories
Video
Galleries
Latest Stories
Video
Galleries